Peachfolians! We hope you're keeping well and trading well. In the Binance Smart Chain (BSC) ecosystem and beyond, we've seen plenty of reason to be hopeful about the direction that cryptocurrency markets will take in the next six months. The Ethereum London Hard Fork has seen $ETH soar to exhilarating heights (more ETH news to come below!). Bitcoin has also finally broken out of its torpor with $BTC trading above $42k for the first time in months.
As for us here at Peachfolio HQ, we've been waiting for the right moment to share a whole bag of exciting news with you. It's finally time for us to share an overview of some of the things you can expect from our August Marketing Ramp for Peachfolio.
TLDR? We have four huge milestones arriving this month! Check out the graphic below for a sneak peek, then read on for more details.
Peachfolio Pro reveal
First up, we have the unveiling of the Peachfolio Pro requirements and pricing system.
We know this is an announcement that a lot of our holders have been eagerly awaiting. This is the first taste of the utility we have planned for the $PCHF token that will lead to excellent buying pressure for our chart. Understandably, we're pretty excited about delivering the first of many use cases for our token that we have planned!
If you've tried the Peachfolio app, we're sure you've seen how it's the best BSC tracking app on the market. The Pro features we've already implemented mean you can effortlessly check your entire portfolio across multiple wallets. And the good news is — we're only getting started yet.
With full-wallet profit and loss, price alerts, rugchecking, limit orders, market analytics, capital gains calculations, and social media crawling still to come, we know we have a winning formula on our hands. That's without even talking about our plans to add Ethereum chain tracking and even more blockchains selected by our community!
After lengthy consultations with our users and deep research into app pricing strategies, we arrived at a tiered system that we feel is both affordable and fair to our $PCHF token holders.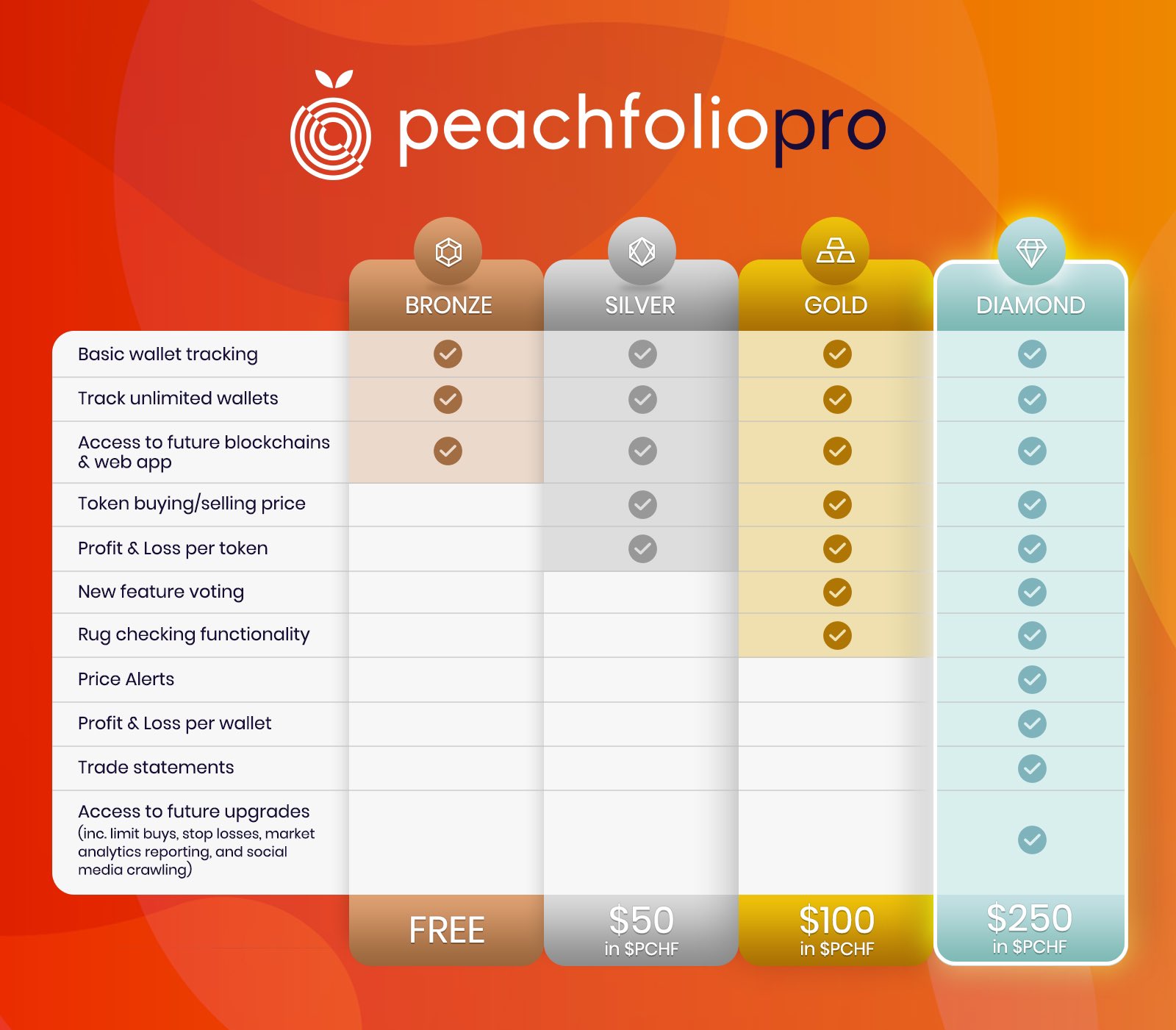 Bronze
We want to make sure the core of Peachfolio remains available to everyone, so the first tier "Bronze" is free for all. You can still track unlimited wallets and will have access to future blockchains. You'll also have access to our Peachfolio Web App that we'll release in September.
Silver
The second tier will be the "Silver" tier, which you'll need $50 of $PCHF to access. On top of the standard functionalities, you'll also get exciting Pro features like Buying and Selling Price for tokens and Profit and Loss per token.
Gold
Moving on to the third tier: "Gold"! When you hold $100 in $PCHF, you'll get access to the Peachfolio Rug Checker functionality. We've all been burned by scam coins, and this is a highly requested feature for many $PCHF holders and DeFi investors across the BSC ecosystem. You'll also get to decide on the future direction of the Peachfolio app. We will have regular votes on new features, including future blockchains that will be added to the app.
Diamond
Finally, we have the high-end tier, "Diamond". When you're a Diamond Peachfolio holder, you will unlock every Pro feature in Peachfolio. You'll be able to enjoy Price alerts, Profit and Loss per wallet, and Trade Statements. There will be tons of new Pro Features in the future, which will also be unlocked in the Diamond tier.
And remember, you don't pay for Peachfolio — you invest in it! As buying pressure increases from our growing Peachfolio app user base, you'll see this reflected on the $PCHF chart too.
Peachfolio goes Multilingual
Next up, the second of our exciting app updates. We'll launch the inaugural Peachfolio app language pack on Saturday 14th August.
Language Pack One will launch the app to a huge new audience. The entire Peachfolio UI will be available in Hindi, Indonesian, French, Spanish, Dutch, and … Irish!
Collectively, this will allow 1 billion people to experience Peachfolio in their native language and native currency. In particular, we're excited to open up native language access to India and Indonesia and their enormous markets of enthusiastic crypto investors.
Language Pack Two will be our third big update to the Peachfolio app, dropping on Saturday 21st August. Pack two will include Chinese, Turkish, Russian, and Arabic. Four more huge crypto communities that can help get the Peachfolio app onto the mobile devices of investors all around the globe!
To celebrate these two worldwide events, we're lining up a stream of region-specific marketing content, including influencers, telegram posts, and targeted Facebook/YouTube adverts. This marketing push will focus on DeFi users across all of the countries being welcomed into #TeamPeach.
Our last marketing ramp saw the MC pump to a $5M MC! So… let's fuel up the peach rocket, lock into the app, and boldly head once more TO. THE. MOON 🚀🚀🚀.
Peachfolio + Ethereum = ❤
Finally… it's the big one.
We're delighted to announce that at the end of August, we have our biggest event to date. We'll be expanding the Peachfolio app's tracking abilities to an entirely new blockchain: Ethereum!
Ethereum is a crypto behemoth which is home to some of the biggest projects on any chain, including giants like SNX, UNI, LINK, AAVE, and SHIB. Ethereum represents the Old World of crypto to the Wild West of BSC. Tracking tokens on Ethereum takes Peachfolio into the crypto mainstream and positions us perfectly to become the cross-chain tracking hub at the fingertips of every crypto investor.
To celebrate the Ethereum launch, we'll be running a new multi-channel marketing campaign, including Reddit, YouTube, Facebook, PooCoin ads, as well as more widespread crypto ads. On top of that, we are putting plans in motion to form our biggest partnership yet. If this comes off, it will be a huge win for #TeamPeach! Watch this space 🙂
And one last thing…
From this week on, we will be starting a weekly post on /r/CryptoMoonShots, giving us continued exposure to a core audience of Peachfolio. Repeated exposure, week after week on CMS will drill Peachfolio into the mind of Reddit-based investors.
And one last last thing…
We are hiring! You may have seen our advertisement for Sales Execs. These guys will be pushing peach. We are getting all hands on deck to scope out potential partners, peachy picks, and getting logos featured in the Peachfolio app.
Making Peachfolio integral to the marketing strategies of other projects is our goal. We will become a critical part of the crypto infrastructure and checking tokens in the Peachfolio app will be in every investor's daily routine.
And one last last last thing…
Make sure to check out our article on Smart Liquidity by our friends at DefiNews.
Their Twitter account is a great follow if you want to get daily updates on all things DeFi. We really appreciate them helping to spread the word about the Peachfolio app's great features!
Til next time — stay safe and trade smart with Peachfolio.
Peachfolio, your DeFi Companion 🍑.